Surveying is a pivotal piece to every successful infrastructure/public works design project. It lays the foundation for the physical space where new or improved facilities will be established. An accurate and complete survey is essential for determining what type of design is required. It is the tool necessary to take a design and transform it to the physical ground. Inaccurate or incomplete surveys can lead to inaccuracies that often do not surface until construction, when it is typically too late to correct without substantial additional design efforts and labor costs.
To ensure accurate and complete surveys, contract with Carpenter Marty Transportation (CM) to get your project off to a good start. Our team includes three registered Professional Surveyors, one Surveyor Intern, and a Certified Survey Technician Level III Computer Operator. We encourage our technical staff to pursue survey certifications to ensure competency, raise the bar for the industry, increase efficiency, and increase accuracy for both internal and external clients.
CM offers a full array of surveying services, including: project control establishment; topographic and hydraulic surveys; construction staking; and project basemapping. With over 125 years of combined experience, our survey team is experienced with a wide range of survey projects, locations, and existing conditions. We know how to collect the data necessary to complete an accurate survey and develop a comprehensive project basemap.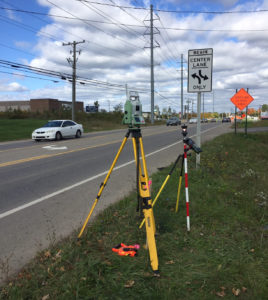 CM uses the most current technologies, including high-definition surveying (HDS, also known as laser scanning). HDS delivers powerful visualization and improves design detail by producing literally millions of survey-grade points. No other format provides better detail or quality. Return trips to the project site are essentially eliminated and typically one person can collect the data, which allows fieldwork costs to be minimized. All HDS can be done from a safe, unobtrusive location, which helps eliminate maintenance of traffic costs and conflict with existing traffic.
In addition to surveying services, CM also provides right-of-way design services. These services include: boundary retracement surveys, deed and title research, centerline establishment and route surveys, plan development, legal description preparation, and right-of-way staking. We have worked on small public works projects affecting just a single property owner; large, urban roadway widenings impacting more than 150 property owners; and everything in between. With completed projects in more than half of Ohio's 88 counties, our team is very familiar with courthouse research and various county requirements for legal description preparation and plat recording. Our licensed professional surveyors are all prequalified with ODOT to perform Limited and Complex Right-of-Way Plan Development. Additionally, two of team members are prequalified with ODOT to perform Title Research.
For Survey & Right-of-Way Services, choose Carpenter Marty Transportation.