Carpenter Marty Transportation (CM) has once again been selected for the 2017 PSMJ Resources, Inc. (PSMJ) Circle of Excellence. This year we went Platinum!
The Circle of Excellence (CoE) represents the top 20% of PSMJ's annual A/E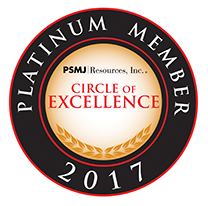 Financial Performance Benchmark Survey. There are thirteen key performance metrics including: overhead management, productivity, business development, project performance, staff turnover, and overall profitability. All A/E firms are eligible for the award, regardless of size, revenue, or location. Firms can become eligible for the CoE award by participating in the A/E Financial Performance Benchmark Survey, which is open January through mid-April.
The Platinum Award signifies an exceptional level of consistency and achievement across these different business categories. Only architecture, engineering, and construction firms who earned the CoE award for four of the five previous years can earn the Platinum award. CM has won the award four straight years!
The award was presented to us at the PSMJ Thrive 2017 conference in Denver, Colorado. Additionally, Kevin Carpenter, company Co-Founder and Principal, was invited to be a part of the Profile of Excellence panel discussion, which included owners of four different CoE winners. Mr. Carpenter discussed how the company maintains our level of excellence and the strategies we use to keep employees and clients engaged.
PSMJ has been a big factor in CM's success. Their support, guidance, and recognition of successfully managed and demonstrated achievements have helped us achieve excellence in many areas. For more than forty years, PSMJ has offered resources for A/E/C firms. We are grateful for the reports, newsletters, seminars, conferences, and webinars they provide for companies like ours.  The insight has helped our firm develop strategic planning and management insight.
Participation by more than 330 firms has helped raise the standards for businesses in our industry. As the engineering industry standards elevate, so do inner office operations and project performance. PSMJ's CoE is consistent with CM's vision of creating successful partnerships to bring about a better built environment. Further, it helps us accomplish our mission of exceeding client expectations through exceptional performance by every member of our team. Our longevity is based upon customer satisfaction in all areas including timeliness, attention to detail and service-minded attitudes.